For Immediate Release
Still Got Game Foundation, in conjunction with Double Plus, announce
"Ante Up for A Cause"
Series of Online Poker Events to Raise Funds and Awareness for Social Issues Facing Our Communities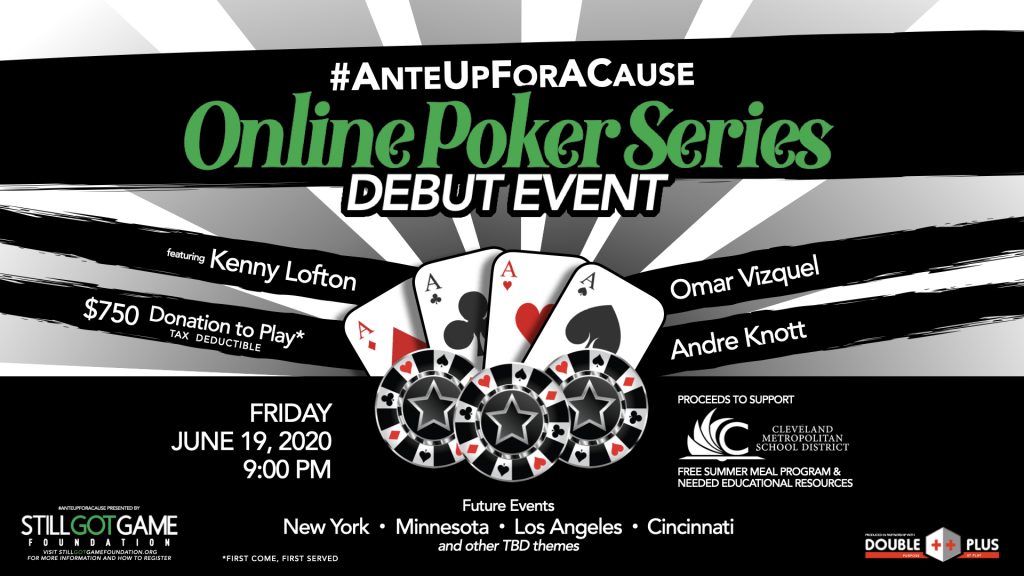 •  "Ante Up for A Cause" will match SGGF board members with former teammates and local media personalities to raise funds for important causes at the grassroots level
•  First event will feature Kenny Lofton, his former Indians teammate, Omar Vizquel and Cleveland broadcaster, Andre Knott
•  LaTroy Hawkins and Torii Hunter are on deck to host Twins-themed online event
New York NY, Friday, June 12, 2020 … The Still Got Game Foundation (SGGF), the nonprofit founded by former Major League baseball players and, Double Plus, a charitable amplification agency out of the Pacific NorthWest, today announced the creation and launch of "Ante Up for A Cause" series of online, fund-raising poker events.

Each "Ante Up for A Cause" poker event will feature a Still Got Game Foundation board member(s), former Major Leaguers – most of whom will have been a teammate of a SGGF board member – and a media personality from the community being showcased.
For a $750 tax-deductible contribution to the Still Got Game Foundation, earmarked to support nonprofit causes personally chosen by the players, fans will have the unique opportunity to play online poker and share their own stories with some of their favorite players. Each event will include a private Zoom session that will allow all participants to see each other and interact while "sitting" around a poker table bragging about days gone by.
During each poker event, the public will not be playing for cash prizes. Instead, all fans will be playing for bragging rights and a chance to compete in the "Ante Up for A Cause" online tournament of champions event. All "Ante Up for A Cause" donors will be ranked by their final chip total at the conclusion of each event, and the top 10 overall chip earners will receive the chance to compete for the 2020 "Ante Up for A Cause" championship.
"The Still Got Game Foundation board members have been committed to finding a way to use their platforms to raise awareness for important social causes in the communities that they have, at one time or another, called home," said SGGF Executive Director, Melissa Persaud. "We stand with all those who are presently taking a stand against racial injustice, discrimination and police brutality, while additionally backing others suffering and serving in the midst of the Covid-19 pandemic. The Ante Up for A Cause fund-raising series will hopefully help generate awareness and incremental funds for causes dedicated to improving the lives of at-risk populations."  The Still Got Game Foundation enjoys the support of the digital agency, Double Plus, in presenting the "Ante Up for A Cause" series.
Founding board member and former Cleveland Indians all-star, Kenny Lofton will host the first "Ante Up for A Cause" event on Friday, June 19, when he'll be joined by former teammate and all-star, Omar Vizquel, and local broadcaster, Andre Knott. Proceeds from the Lofton event will benefit the Cleveland Metropolitan School District and will be earmarked to support its free summer meal program as well as future educational resources for students.
LaTroy Hawkins and Torii Hunter, also founding SGGF board members, will hold the second "Ante Up for A Cause" fund-raising event on Friday, June 26, at 9 PM ET. Proceeds from this event will benefit ACLU-Minnesota.
Additional Ante Up for A Cause MLB team-themed online poker events will be announced when details become final.
Poker playing spots are limited and will be sold on a first-come, first-served basis. Fans interested in helping the Still Got Game Foundation raise much-needed funds and awareness for community-based causes are asked to email [email protected] for a formal invitation and registration link.
For more information regarding the Still Got Game Foundation, please visit: StillGotGameFoundation.org.
Still Got Game Foundation
Through the Still Got Game Foundation, a 501 (c) 3 non-profit organization, former professional athletes and like-minded charitable individuals connect to exchange ideas, provide resources, volunteer, and develop and promote programming that supports social change for a more just, sustainable, and educated world. The SGGF executive board presently includes Mike Buckius (Chief Investment Officer Gateway Investment Advisers, LLC); Ken Griffey, Jr. (Baseball Hall of Famer & 22-year MLB veteran); LaTroy Hawkins (21-year MLB veteran ranked 10th on all-time games pitched list); Hunter (5-time MLB All-Star and 19-year MLB veteran); Lofton (6-time MLB All-Star and 17-year MLB veteran); Brendan Miller (Thorofare Capital); Posen (Co-founder Lindbrook Capital LLC); Stephen Solaka (Co-founder Belmont Capital Group) and Drew Stubbs (9-year MLB veteran ). For more information about the Foundation, please visit www.StillGotGameFoundation.org
Contact: Melissa Persaud, Executive Director, Still Got Game Foundation,