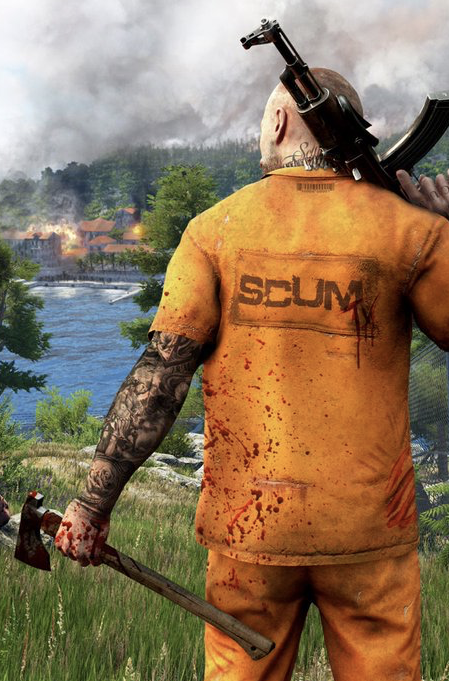 SCUM
"Could this be the first game to teach you to eat right?" As long as it's asking you to barbeque bits of zombies, that's inconclusive."   – Trusted Reviews
The world's unquenchable need for entertainment has turned towards bloodlust as entertainment behemoth TEC1 is set to premiere season two of its television sensation SCUM. Both fan favorites and new prisoners clash in a ruthless war of survival while battling for the support of viewers, producers, and corporate sponsors for fame, gifts, and a chance of life after death.
Combining the methodical planning and management of hardcore survival with optional PvP 'network events' available to everyone at anytime, SCUM strikes a unique balance between complex simulation and intense action in the next generation of survival game. 
About the Tournament:
GameOn Tournament Organizer is a Twitch extension that allows Twitch creators to generate tournaments with a click of a mouse and allows the streamer to invite players to join from directly within the game. The Tournament Organizer opens up a new channel for player acquisition and drives incremental engagement for existing players. Deepen your relationship with viewers and subs while driving awareness to some phenomenal causes.
https://youtu.be/IP15J1cLzDA
This tournament will use Amazon's new GameOn Tournament Organizer available on Twitch. Streamers can deepen their relationship with viewers while driving awareness to some phenomenal causes with the click of a mouse.
CALLING ALL CHAMPIONS (Charity Ambassadors) 
Turn your viewers into players with community tournaments

Seamless tournament integration into your channel

Play & promote SCUM during 8 week tournament run

Install, educate, and promote GameOn Tournament Extension

Create tournaments directly from your Twitch page
DOUBLE PLUS QUARTERS UP:
Acting as a single point of contact between GameOn, players, & charities

Provide ambassadors with social media support from charities and partners

Set up of donation site as well as prize sourcing

Guaranteed donations provided to all charities involved in the event

Creative assets used to market and promote the program